My independence, their peace of mind.
Sofihub ensures you have peace of mind by knowing aged loved ones are alright as they maintain their independence, living in their own home.
Register for Sofihub
Learn More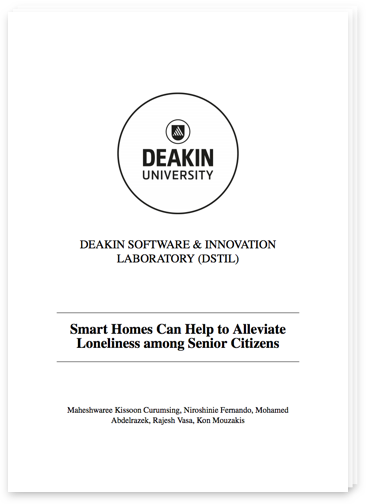 NEW
Deakin University Industry Report
"Smart Homes, Loneliness and Aged Care"
DOWNLOAD NOW
"Ever since Dad had that fall last year we have all worried about him. I check on him every day but that doesn't stop me from worrying."
We know that feeling which is why we created Sofihub... Sofihub uses Artificial Intelligence to identify when something unusual happens in the home and will raise an alert automatically, giving you and your loved ones peace of mind.
How Sofihub helps
For Seniors Sofihub is your home assistant
Sofihub Reminders

Sofihub can also be linked to your Google Calendar to remind you of appointments and special events such as birthdays.

Hydration Reminders

"Maybe it's time for a glass of water." Sofihub Hydration Reminder will make sure you don't forget.

The HUB

Sofihub is the command centre for your home connected to the most important people in your life.

Sofihub Alerts

Sofihub is like a smoke alarm - nobody wants to need it but it is there when you need it.

Family Alerts

As soon as Sofihub detects abnormal behaviour, it takes steps to notify the appropriate family members.

Tuning and Reports

Sofihub allows you and your family members to customise your experience using Sofituning via the Sofihub app.
Using independent trials run with Deakin University together with residents from the City of Greater Geelong.
We listened to Seniors and designed Sofihub so that it would complement their lives without asking them to change.
What can Sofihub do?
Sofihub will let you know as soon as something out of the ordinary occurs.

Reminders Volume
Adjust the volume of voice reminders.

Speaker
If Sofihub thinks something is wrong you will be asked, "Is everything ok?"

Sofihub button
When Sofihub asks is everything alright, you can press the button to confirm you do not need any assistance.
4G connectivity
For sending alerts and software updates.
Sofihub will be available from September 2017, register your interest now to find out if it will be available in your area.
Latest News
5 Things you will experience with SofiHub at ACSA National Conference on September 12-14 in Cairns. We will focus on our passion for Smarter Notifications…
Read More
Frequently Asked Questions
Does it require internet?

Sofihub comes fully connected via the 4G network to send alerts and receive software updates.

When will it come to my area?

Sofihub will be released in stages. To find out if Sofihub is available in your area please fill out the registration form below and we'll be in touch within 2 business days.

Are there any ongoing costs?

Sofihub has a monthly subscription cost of $40, including; SMS alerts, software licence, updates, reporting & support.

Is it available in all homes?

Sofihub will initially be suitable for single person dwellings and some forms of shared accommodation. For more information contact us.

How easy is it to set up Sofihub?

Clear instructions are provided to assist you with sensor placement and connecting sensors to the hub. No drilling or wiring is required. We can also recommend qualified installers, please select this option when ordering your Sofihub.

What languages does Sofihub support?

Currently Sofihub is only available in English. Contact us for more information when other languages will become available.
Register for Sofihub now.
Sofihub will be available from July 2017. Register your interest now to find out if Sofihub will be available in your area. We will be in touch within 2 business days.